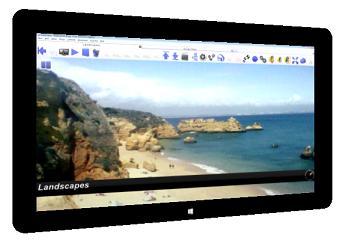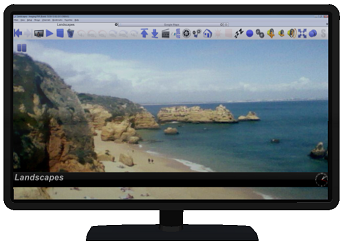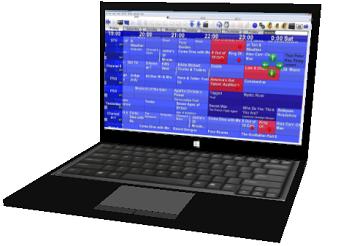 Imaging PVR - A great Personal Video Recorder for you!
Imaging PVR is TV card software giving you super entertainment at a great price. Watch your programmes on your computer or the TV.
Plan viewing Upcoming Movies - watch a trailer, read a review

Record your favourite series automatically

Pause and rewind live TV

Watch / record up to 6 channels

Catch up TV, Videojug, YouTube,

Parental control of children's TV viewing

Skip advertisements lots more
Get your favourite TV channels
Choose whether you'd like to watch Freeview (UK), Saorview (Ireland), DTT (Europe) Freesat, other satellite or some or all of them together.
Your Freeview channels (Also known as Digital Terrestrial TV (DTT)
Satellite TV channels External link
How do I use a TV card?

Get a TV card if you don't have one already. A cheap one is fine as you won't be using their software.

Install the TV card driver. You don't need the rest of the software.

Download Imaging PVR software to run your TV card and get top quality TV and great features.

For Freeview you need to connect to a TV aerial. Freeview TV cards are labelled DVB-T.

For Freesat you need to connect to a satellite dish. An old Sky dish works. Freesat and satellite cards are labelled DVB-S.

You can use an old laptop or computer that's Windows 2000, XP, Vista or 7 and watch on normal TV if you want.
Choose your own favourite EPG colour scheme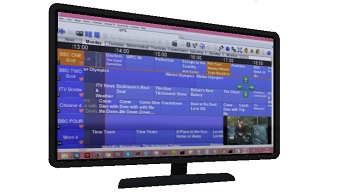 The Electronic Programme Guide - EPG
The standard is blue, but you can also choose olive, colourful, grey / white or grey / yellow. Select Setup > Appearance. You can also change the colours for the Show Library where the recordings are stored.
7 more reasons to choose Imaging PVR

Record up to 7 or more channels at the same time with one TV card.* You can add extra TV tuners to record even more.

Choose to look at the programme guide and recordings library by category - 'film / drama, education / science' etc or by channel number and alphabetical order.

Control the kids TV viewing

Use tabs to switch between TV programmes, the programme guide, recordings or Internet pages you're reading.

Keep watching while you're in the programme guide and recordings library.

Imaging PVR has features that others simply don't have.

Free updates.
Not needed
X No phone line
X No Internet connection (apart from downloading the programme and Internet content..)
X No subscription charges
X Free of spyware or adware.
What is a PVR?
PVR stands for a Personal Video Recorder. It is also sometimes known as a DVR - Digital Video Recorder. You use a PVR to watch and record television. Imaging PVR is software for TV cards that gives you top features at a low price.
Compatibility
Windows 2000, XP, Vista, 7
Dual tuners are fine and you can use DVB-T and DVB-S for a really great package. ( Or 2 or more DVB-T cards, or 2 or more DVB-S cards, or DVB-T and or DVB-S and analog...)
Europe, Australia, South Africa, Russia, India, Middle East, Indonesia, Morocco.
This software is not on sale or download to those living in the USA, Canada and much of South America. It's for a different TV system, so don't download.)